Edusson Review: Underneath the Glitz
My Rating: 4/10
My "friendship" with Edusson.com resulted from the hectic life schedule that prevented me from tending to my academic studies with the proper commitment. What made me choose this particular service, then? It was the enormous hype around the company raised over the web, presumably by its thoughtful staff. After checking out one raving Edusson review, I right away decided to place an order with this service, having no clue what quality they would deliver to me in return for the good sum of money I paid.
The Edusson service proved to be a rather substandard writing organization aiming to capitalize on the trust of its customers. Further in this review, I'll provide the piercing details of why I would discourage you from using it.
Overview
Edusson.com is a writing company providing full-fledged academic assistance that includes writing, proofreading, and editing for scholarly works. The service covers a complete spectrum of academic paper types and claims to feature a professional team equipped to deliver advanced help with studying to students worldwide. On its website, Edusson introduces people to the kind of extravaganza a lot of companies create to promote its services: roaring claims about its remarkable performance, promises to provide vital solutions to the academic pains of a college student, and the works.
The "Benefits" Clients Are Offered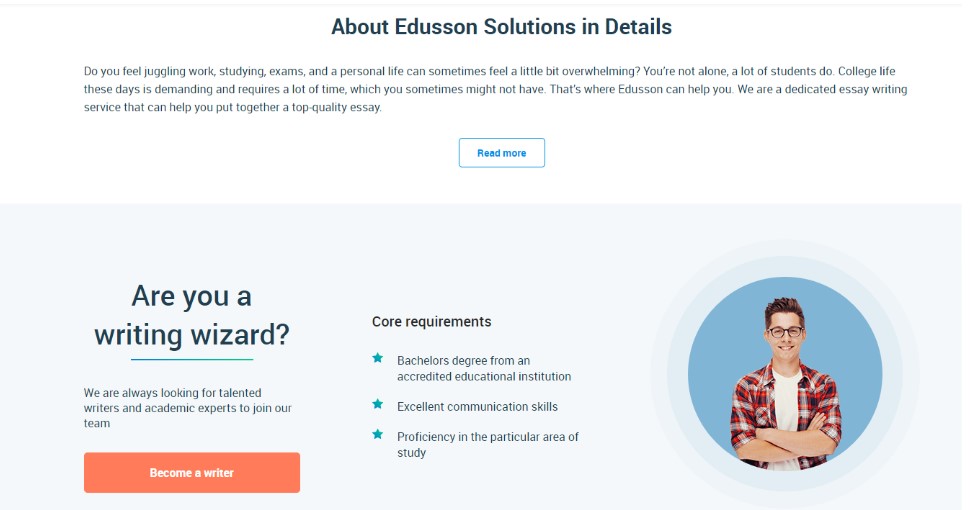 The quality of assistance provided by this company is best evaluated based on the keystones of its performance. For this reason, let's try to approach each of them with respect to my own experience.
Pricing Policy
And beginning our "perks" chart is the idiosyncratic pricing system of Edusson. The company adopts a severely unfair pricing policy, which conflicts with the established standards of online writing businesses, being far above the market value. But the most outrageous thing about Edusson's prices is that they are at odds with the quality that clients receive. But, overpriced as my order might have been, I would have put up with it provided that my essay was satisfactory. Alas, things didn't work out that way — the quality of my paper made me question this policy even more indignantly, driving me mad concerning the whole pricing situation.
It's important to mention that this pricing policy is paired with a bidding system, which allows a customer to choose the writer by themselves. Customers post their orders and wait for writers to offer help along with their desired price. Thus, it's possible to assign the performer of your task based on your own preferences, not on those of the company. The system itself is very convenient and appealing, but again, the company approves of the unreasonable prices that its writers ask for their second-rate work, which is unacceptable for any service that respects its name and reputation.
Product Quality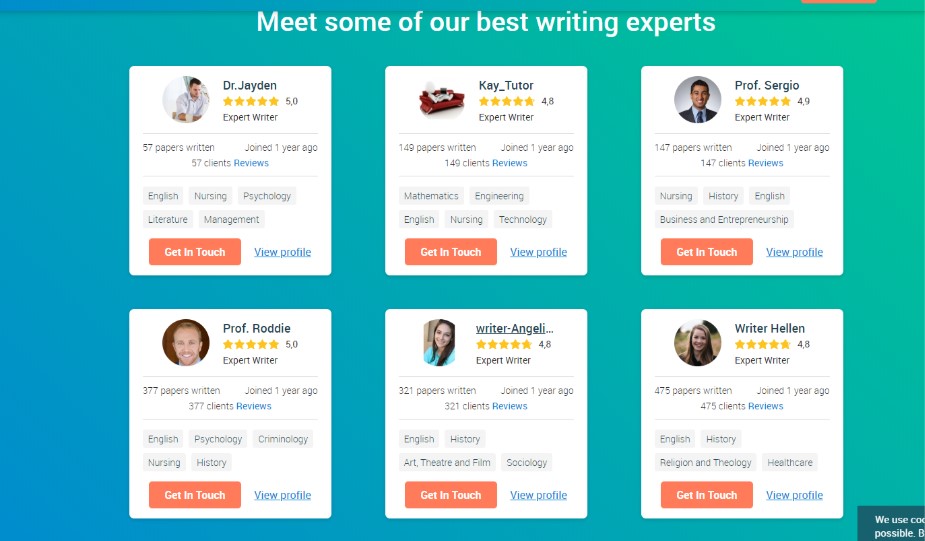 Even though I already mentioned my negative feedback about how the company treats this important facet of the customer experience, I'd like to elaborate on it in this part of my Edusson review. I was extremely dissatisfied with the quality of my politics essay, to say the least of it. The writer I picked through the service's bidding system was highly incompetent. Despite having an impressive rating and favorable reviews from customers (I have no idea what prompted them to evaluate this writer so highly), the author of my paper failed to comply even with the basics of solid academic writing.
My custom essay demonstrated the writer's insufficient academic background in political studies, not to mention their poor skills in scholarly writing. All throughout the paper, the author was dodging the requirements I had provided and attempting to tailor the essay format to some odd standards. What followed as the final outcome was an odd amalgamation of scant scholarly elements and the writer's wacky style.
Customer Support
This is where I'll allow myself to praise Edusson a little bit. Its support team demonstrated a high degree of professionalism and the proper regard for a client's issues. I contacted this center to help me deal with the appalling quality of the paper, requesting a free revision by a new writer. I composed a rather angry e-mail ready for a response as negligent as the company's attitude that manifested itself in the aspects I covered earlier. But, to my biggest surprise, Edusson's support department shared little with what I experienced before with this company. The reps were quite considerate in their response letter and unexpectedly consented to provide me with a free-of-charge revision. So, I ended up with a brand-new essay which was somewhat better than the previous dreadful version.
My Verdict
Edusson is a downmarket writing organization with a greatly exaggerated image. The company's performance doesn't match the common standards of professional academic assistance, and its fake grandeur is merely a trite product of someone's ambitious imagination and disillusioned way of assessing things. In this regard, I warn you against swelling the ranks of Edusson's clientele.