Rush Essay Review: Pricing, Writers, and Feedback
My Rating: 1/10
Advantages:
3-hour deadline available
24/7 customer support
Disadvantages:
overpriced samples
lack of information about the service
numerous negative comments from customers
RushEssay, or Rush Essay, is one of the numerous writing services that provide students with samples of academic papers: essays, research papers, dissertations, term papers, case studies, etc. It also offers resume writing and editing services.
Although the company claims that it provides samples only for informational and educational purposes only, the majority of the customers copy the texts and submit them as their homework. That's a gross violation of academic rules, as plagiarism is, in fact, theft of intellectual property.
Anyway, I don't want to dig deep in my Rush Essay review: sometimes, all of us can use some help to save time and improve grades. Unfortunately, writing services do not always provide desperate students with well-written samples at affordable prices. Rush Essay demands too much and gives back a product of low quality, and that's what my review is about.
Rush Essay Review: Pricing
Prices are a crucial indicator when you're looking for a good writing service. Don't fall for the companies that offer extremely low prices. Firstly, they might be scammers who want to get your personal information or money. Secondly, even if the service is real, the writers will provide you with a sample of bad quality, as qualified experts don't work for peanuts.
From this perspective, Rush Essay is above suspicion: their pricing policy is more likely to be aimed at frightening clients away than at attracting them. The price per page starts from $23.99 (Standard Quality, 10-day deadline). The highest price per page is $57.99 (Premium Quality, 3-hour deadline).
As you can see, RushEssay's pricing policy isn't moderate at all. That's why this service wants to attract customers with numerous discounts. Every first-timer will have 15% off on the first order (discounts aren't applied to orders under $30).
This writing service also has a special discount program called RushUp. With this discount, you can save on every order. Your discount depends on how many pages you've already ordered from RushEssay. Unfortunately, I couldn't learn details, as this "secret" information is only available for registered customers.

Rush Essay Review: Additional Services
RushEssay also offers a list of additional services that cost a fortune. And to add to that, some of them don't even make sense! A customer has to pay extra for literally everything: a good writer, proofreading, support, etc.
Why does RushEssay have the right to require money for the features that are provided by other services for free?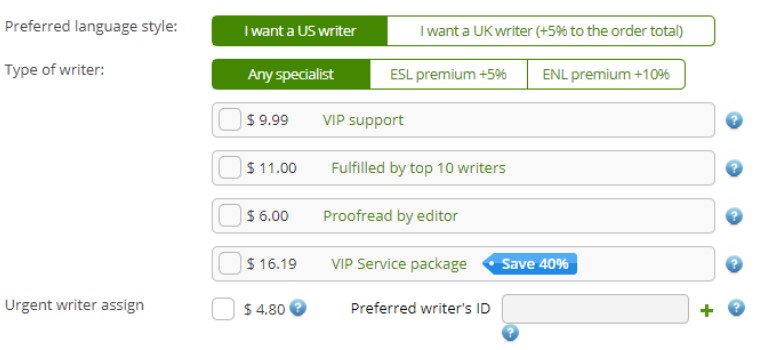 Plus, if you want to work with the same writer again, you'll also have to pay an extra 20%! This policy is unreasonable, and appalling.
Rush Essay Review: Writers
When you order from Rush Essay, you can't pick the writer. You can't check their samples, bios, or comments left by previous customers — nothing! You are the one who pays money, but, in fact, you control nothing.
There are only two blocks of information about the writers that I've found on RushEssay.com. The first page is a table of the top writers. You can't click on the profiles, though, because they don't exist. The only data you get is the photo (probably fake), name (also fake as a rule), writer's rating, and number of completed orders.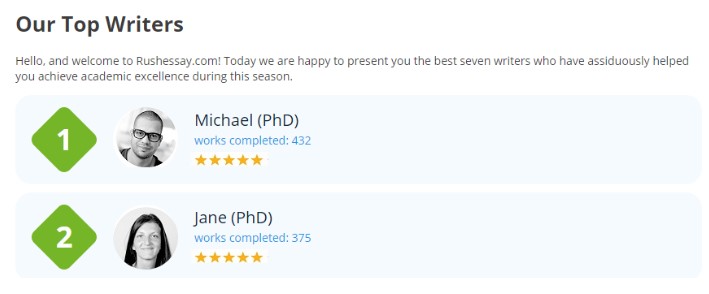 I've also found this excerpt about their writers in the FAQ section.
Really helpful, isn't it?

As for me, this information is clearly insufficient for a well-balanced choice. Right! You don't have a choice. Just go with the flow…
Rush Essay Review: Online Feedback
Online reputation is crucial for writing services, as this market is highly competitive, and customers can replace one company with another easily. Therefore, such services have to take care of their customers to turn them into regulars.
Today, if a customer isn't satisfied with the service, he or she may leave negative feedback on the internet and spoil the company's reputation. When such things happen, the service should react immediately and try to define the problem and solve it.
When I was looking for RushEssay reviews, I found many negative comments on various websites. Maybe some of them are fake, but I doubt that all the comments are false: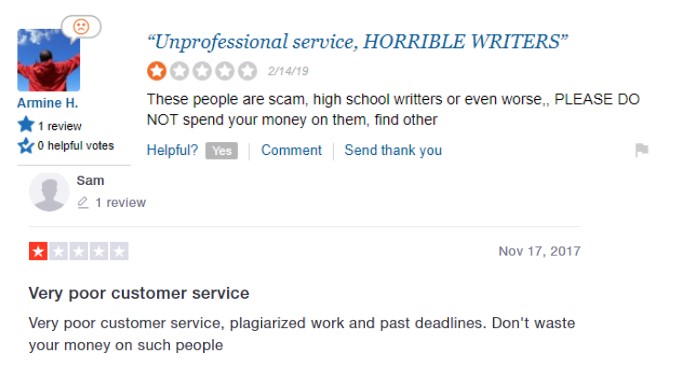 As you can see, customers complain about the service, poor-written samples, and late delivery. And those are definitely not what you want to get when you pay $24 for one page.
Rush Essay Review: Confidentiality
Using a writing service isn't exactly something you want to share with others. Therefore, confidentiality is crucial when you order samples online. As a rule, the writing service requires your email to send invoices and the information about your order. The most secret websites just provide you with an anonymous ID and create an atmosphere of total confidentiality.
But this rule doesn't work for RushEssay: they want to know EVERYTHING about you! You have to share your name, email, and contact phone. In addition, they don't even explain why they need this information.

So, if you care about your personal data, I don't recommend using RushEssay.
Rush Essay Review: My Verdict
There is no way I can recommend RushEssay. Their approach to their work and customers is careless and unreasonable. The high prices, along with numerous negative comments on the internet, create an overall bad impression.
If you care about your money and confidentiality, you shouldn't use RushEssay.