NinjaEssays Review: Lacking the Ninja Power
My Rating: 4/10
The symbolism behind this writing company, along with the "warrior-like" image it uses, is the unequivocal hook that drives users to place an order with this service. At least this was the case with me. Enticed by the epic Ninja imagery the website design centers on, I rushed to entrust my academic paper to this seemingly perfect organization. And if you could only imagine how immense was the disappointment I experienced after finding out the naked truth about this writing service! In this NinjaEssays review, I'm going to pass this truth forward to my readers. So, brace yourselves!
NinjaEssays Overview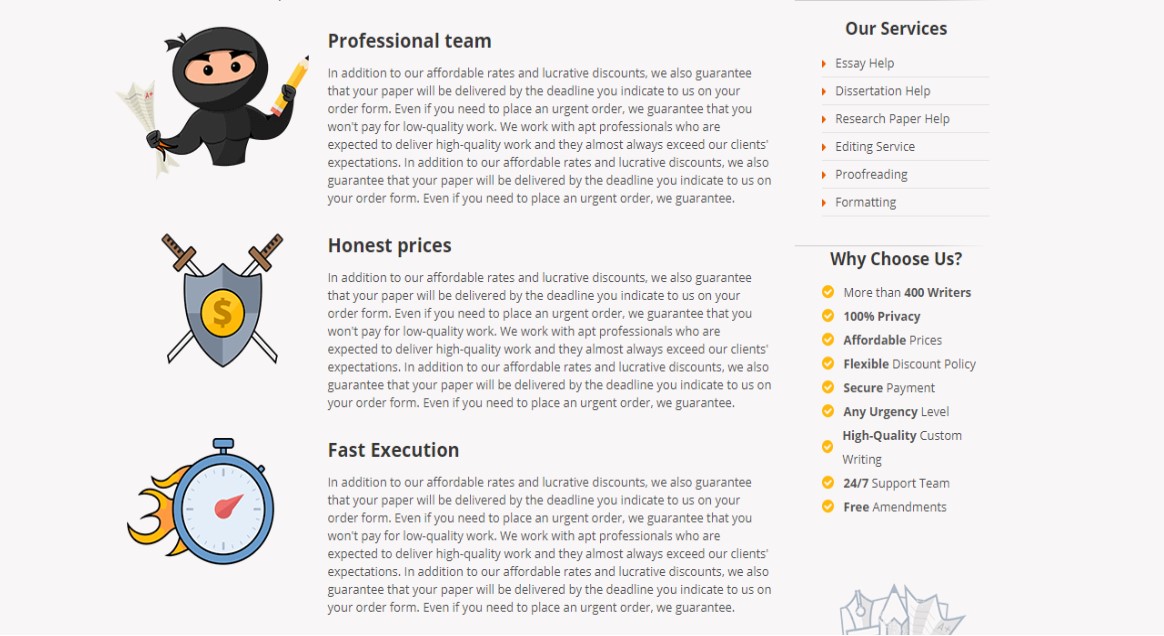 "It's easy to find a so-called essay writing expert online only to waste your money on a substandard paper." Little did the NinjaEssays staff know that, by using this introductory sentence to emphasize the problem of scams in the online writing industry, it would so starkly and brightly describe itself. This writing company provides a service that is far below standard and proves to be a mediocre organization that's not worth your time or your money.
And if NinjaEssays manages to persuade people into ordering from the service, the strong incompetence and idleness of its writing team will indeed come to the surface throughout the order completion process.
What Makes NinjaEssays a Lousy Company?
In this section of my review, I'd like to cover the most conspicuous and significant aspects underpinning my unfavorable impression of this service.
Substandard Quality
As I highlighted earlier, NinjaEssays employs a severely incompetent team, and this doesn't only apply to the writing department. But since this particular department is responsible for the quality that customers receive in return for their money, I'm dedicating this part to evaluating the performance of NinjaEssay writers in connection to my order.
My research paper in linguistics was written by an unqualified person who is not equipped to develop academic works of the proper quality. The paper had little resemblance to a solid piece of academic writing and was a total shame for the writer. Almost all of the requirements provided were simply ignored, and the writer even failed to format the reference page the way I had specifically asked. As for the writing itself, it signaled the writer's rather poor grasp of English. The author's English proficiency was somewhere at the intermediate level, which is not enough for writing papers intended to show the academic competence of a native speaker.
Unacceptable Pricing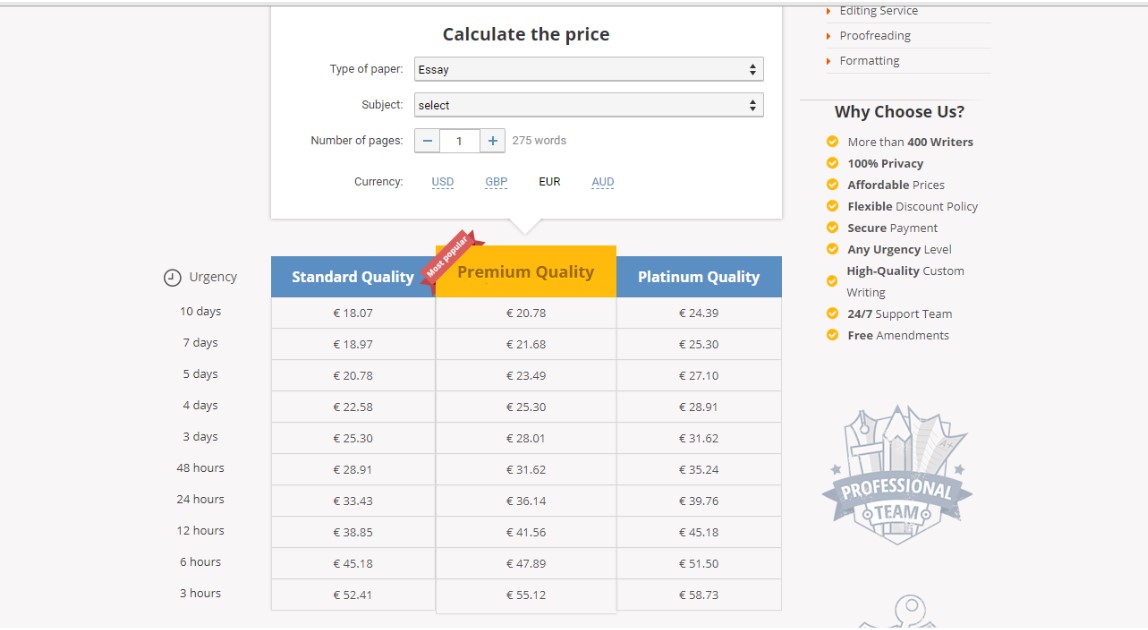 Despite stating that it doesn't charge much for the services provided, the company does ask its customers a lot more than is acceptable. The prices of NinjaEssays are far beyond the established standards, and given the quality that its clients receive at the end, this pricing seems even more ridiculous and unfair. For example, a standard quality essay developed in 10 days will cost you $18.07, while a platinum quality essay created within a 3-hour time frame requires you to pay a whopping $58.73. If you compare the pricing at NinjaEssays with that of other writing services, you'll notice a sharp contrast between them. The company does need to review its prices, or it will just end up losing clients.
Privacy Policy
The privacy protection mechanism this service adopts does echo the strength that its symbol, a fearless Ninja, possesses. The company takes great care of customers' safety, implementing a solid protection system. As you proceed through the order form, you won't be asked to provide private data such as your full name, phone number, home address, or other personal information. Unfortunately, this substantial perk largely contrasts with the company's pricing policy and the quality delivered. And it's really strange to realize that a writing service treating the confidentiality of its clients with such grave concern can neglect the quality of its products.
Conclusion
All things considered, I will not allow myself to deceive any of you by recommending this third-grade writing organization. NinjaEssays has a pretty catchy image that may appeal to most students, but its employees are not capable of providing customers with competent and satisfactory writing assistance. And with that being the final point, it's a "no" to NinjaEssays from me.